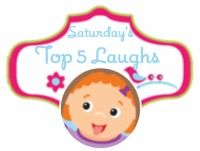 The week has just flown by! We did some Christmas decorating, picked up seasonal books and videos at the library (I'm hoping the idea of Santa will encourage good behaviour), and now, with snow on the ground and more coming down, it certainly looks like Christmas! I've never put the tree or lights up this early before, but with a toddler, everything takes longer, so I'm glad we got a head start.
Once again, I've linked up with
The Mommyhood Chronicles
for Saturday's Top Five Laughs:
Lately, every time the doorbell rings and I say, "Guess who it is?", M says, "Santa's at the door!" She's visibly disappointed when Santa isn't there, so I've been pumping her up before K gets home. She plays along, jumping and clapping while shouting "Yeah! Yeah! Yeah! Daddy's home!" then three seconds later returns to the playroom and ignores him.
My husband's new favorite saying when the kids are giving us grief, is "One day closer to 18."
K and the girls were watching Dora's Christmas video while I was making dinner last night. All of a sudden, K exclaimed, "Dora has no boobs!" I was like, WTF? and reprimanded him, "That's 'cause she's like four years old or something, Honey. Of course she wouldn't have boobs!" He didn't bother to explain that Dora had time-travelled into the future and therefore should have boobs. He just let me think he was an idiot until the next day when I watched the video again with M. I felt so bad when I knew what he was talking about. He just figured grown-up Dora would be voluptuous like the Disney Princesses, can you blame him?
A while back, M walked in while I was changing my pad and asked what I was doing. Thrown off guard, the best explanation I could come up with was, "Mommy's changing her diaper." It must have happened before we went somewhere, because she often asks, "Did you put your diaper on, Mommy?" when I'm getting ready to go out.
Remember last week when M asked, "What happened?" After that, I had to explain that boys have penises and girls have vaginas. It's a recurring topic of conversation these days. My husband, being a smartass, added "Some girls have penises too." M immediately asked, "Does Mommy have a penis? Does Em have a penis? Noooo, Em has a 'gina." I told her the proper name, then she said, "Vagy? Em has a vagy, Mommy has a vagy too." I give up. Vagy it is. It sounds cuter anyways - just like how dogs are doggies to little kids.
What made you laugh this week?